What is Multi Head Drilling Machine?
Multi Head Drilling Machine, Aluminum Profile Drilling Machine
Aluminum profile multi-head drilling machine is mainly used for drilling profiles of aluminum alloy doors, windows and curtain walls, especially for long materials and mass production.
It is suitable for profiles whose cross section does not exceed 250*250mm, and the maximum machining length is 5000mm~6000mm.
Multi-head drilling machine can be installed to meet the simultaneous machining of multiple groups of holes.
The gas-liquid damping cylinder is used in the feed system, and the feed is stable.
First of all, we need to select the appropriate bit and bit according to the material and drilling depth of the processed object, and the common bits on the market are also matched with a variety of hardness according to different materials.
Secondly, it needs to be adjusted to the speed of the motor suitable for processing materials, too high speed is easy to soften low melting point metal, too slow soft materials will have adhesion.
Of course, we need to do a good job of cooling and lubrication.
JMD Multi Head Drilling Machine Products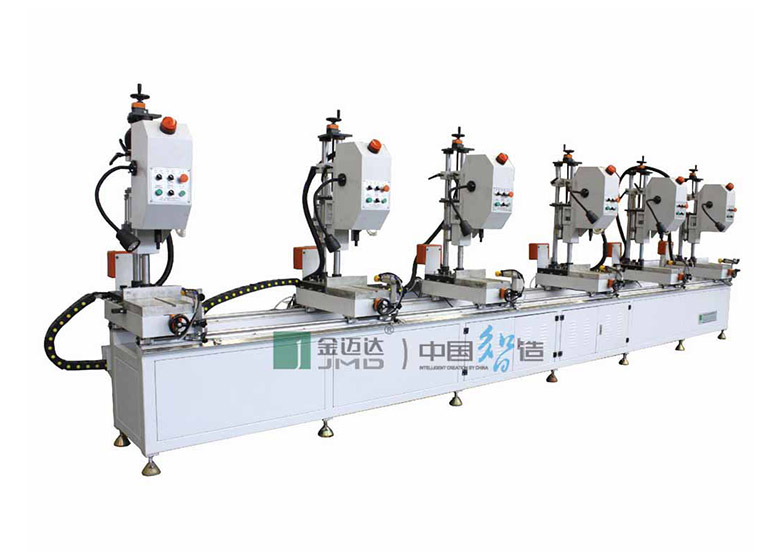 Chassis brand: JMD
Max Dia. Drilling hole
Max distance of two drilling hole
Benefits & Features
1. This machine is mainly composed of six sets of drilling head,bed
electrical control system and pneumatic system;
2. Each drilling head is composed of motor, three-axis drill pack, sprayer,
pneumatic feeding, workbench, profile clamping cylinder, profile support
structure, head locking structure and electrical operating panel.
3. PLC control, all the heads working can be single action and linkage,it
depends.
4. Each operating button refer to "operating panel photo".