The company in door and window processing equipment, aluminum alloy cutting and aluminum profile processing. It is one of the top 10 high-tech enterprises in door and window machine manufacturing in China. At present, the company has passed ISO9001, CE, SGS / BV and other international certification.
We have 21 years experience of production and processing, 10 years experience of export trade experience, and get the trust of customers. Now more than 40 countries and regions use our equipment. In China, we occupy more than 50% of the production of aluminum windows automatic cutting line and aluminum clad wood windows machine. Customers in Europe and the US have been growing in recent years.
The company covers an area of more than 300 mu
At present, there are 230 employees and more than 50 engineering technicians with bachelor degree or above.
More than 130 sets of machining equipment.
More than 3000 end customers.

We have our own factory and all kinds of advanced processing equipment. In recent years, in order to meet the needs of customers, we have expanded our business and focused on high-precision equipment. At present, in addition to the general CNC lathe, the machining center, 11m gantry machining center, plane grinder, CNC milling machine, Mazak wire cutting, dynamic balance tester and other machine tools are also introduced.Company based on sheet metal riveting, machining, surface treatment, equipment and services in one company, can provide one-stop service.
Typical Window/Aluminum Machine: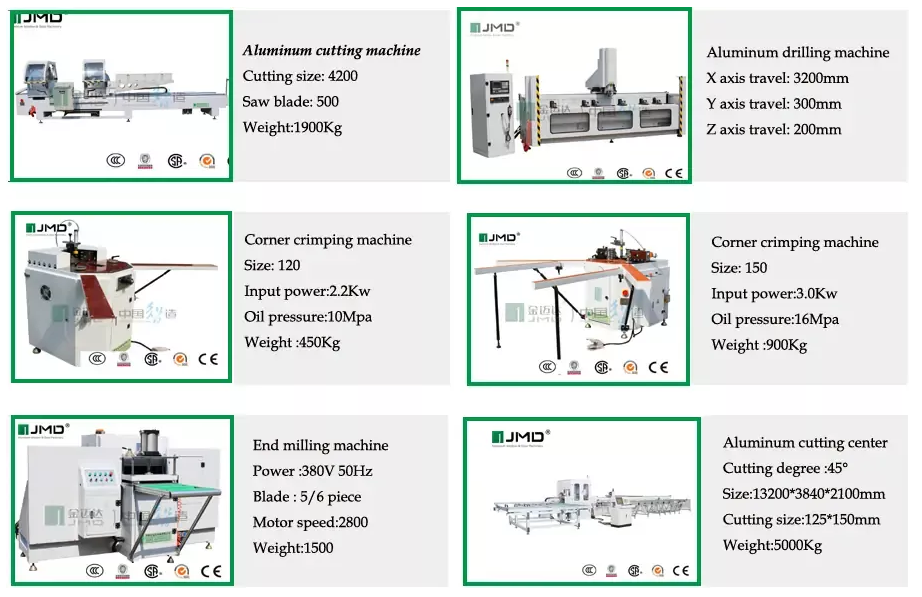 Our Clients

In addition, it includes vibration aging instrument, professional measurement box, altimeter and surface roughness inspection machine. All points and all dimensions need to be checked and quality guaranteed.

Our main business is aluminum window door equipment, aluminum processing equipment,aluminum clad wood window equipment. We accept all kinds of door and window equipment customization, aluminum clad wood door and window customization, equipment precision is high, we are used for strong R & D and design capabilities, and have won more than ten national invention patents and technical patents. The specific equipment includes: double head cutting saw for aluminum doors and windows, automatic cutting production line for aluminum profiles, aluminum window crimping machine, three-axis aluminum processing center, end milling machine, aluminum profiling milling machine, aluminum punching machine, widely used in aluminum doors and windows manufacturing, aluminum alloy parts for automobiles, solar aluminum frame, etc.
In order to better test the stability of our equipment, our company has set up a production experiment base for aluminum doors and windows, aluminum-wood doors and windows, which can verify the stability of the equipment in the first time. At the same time, we also provide high-quality door and window services for end customers.

The above are the exhibition pictures of our thermal broken aluminum doors and windows, aluminum clad wood doors and windows, and sunshine room.
Related Product: Window machine
Window machine, aluminum machining near me, aluminium cnc, aluminium window making machine for sale,