Aluminum window especially the thermal break window is more and more popular in today's world. People love it because of its excellent thermal insulation properties. Besides of the good design and high-quality materials(aluminum profile, glass, strips, sealant, etc), what else make the thermal break window function so well? The answer is the way to make the windows.
To make aluminum windows, we must need aluminum window machinery including aluminum profile cutting saw, crimping tool, aluminum punching machine, aluminum bending machine, end milling machine an so on. For all the machines above, the aluminum profile cutting saw is the most important one. Usually, the window jamb and sash profiles are jointed at 45degree angle. And the mullion profiles are connected to the jamb at 90 degree. So, cutting 45 degree and 90 degree angle is the basic function required for the cutting saw. The double head miter saw is made for this purpose.
JMD is the leading manufacturer of aluminum window machinery in China. We have 2 models of double miter saw optional:
1. LJJ2AS-500X4200, CNC controlled. The right machine head can move automatically to reach the cutting length. Cutting length can be preset through the touch screen. It's easy to operate, especially when you have multiple cutting lengths.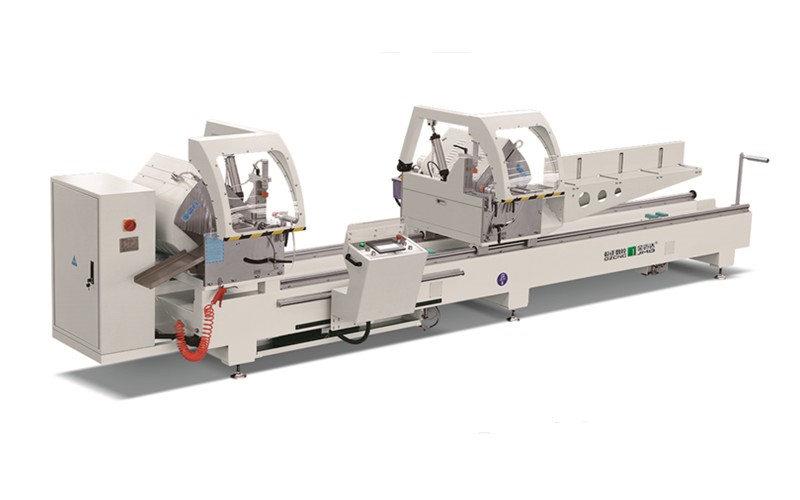 2. LJJ2AX-500X4200, Non-CNC. The right machine head should be manually moved to reach the cutting length. The real cutting length will be displayed by a digital screen. Compared the the CNC saw, it is more simple and stable. More importantly, its price is not high.
Which saw will you choose? Feel free to contact us if you're interested.
Related Product: Double Head Saw
Double Head Saw, Double Head Cutter, Double Miter Saw, Double Head Saw,